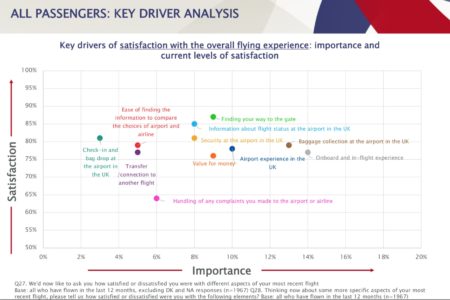 UK airline pax less satisfied, despite better search and booking processes
The UK Civil Aviation Authority (CAA) has published its latest consumer survey which shows a drop in overall airline passenger satisfaction to 83% compared to 90% in the first survey conducted in the spring of 2016.
The study, conducted by ComRes on behalf of the CAA between 29 March and 20 April 2018, is based on interviews of 3,500 UK adults online and by telephone.
Experience onboard had the greatest drop in customer satisfaction, from 81% in spring of 2016 to 77% in the most recent survey. Factors related to technology, such as travel search and flight information, performed better.
Satisfaction
There are lots of moving parts to the overall airline satisfaction score, but as travel tech companies talk about the end-to-end experience, these elements become increasingly important. If the on-board or on-airport experience falls short, the improvements in search and booking satisfaction can be subsumed.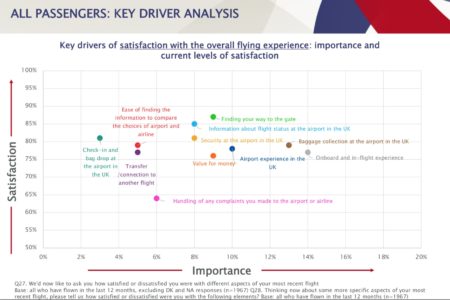 Fares
More than half (55%) of all airline passengers surveyed agreed that it is easier to understand the costs of different airlines and compare fares; 61% of those aged 18-34 agreed.
Meanwhile, 53% agreed that it is easier to find and compare flight-related information, with a slightly higher proportion (56%) of 18-34-year-olds agreeing.
The study also finds that the majority (94%) of those flying from a UK airport over the last year bought a return ticket—20% paid over £500 for their ticket and 31% paid between £101-300. The study also finds that the price paid for the ticket does not significantly impact consumer impressions of the overall travel experience.
Among those who have flown in the past decade, the predominant perception (53%) is that the flying experience is about the same; 29% say that it has improved and only 14% say that it is getting worse.
Holidaymakers still dominate the traveling public (72%) with an additional 19% flying to visit friends and relatives and only 7% of passengers flying for business or work reasons.
Most (78%) passengers travel in economy class, while one-in-six (14%) have opted for premium economy tickets—an increase compared to 8% in October of 2017. Only 6% booked business class tickets with 4% booking first-class tickets, up from 1% last time.
Savings
One in five (22%) chose a 'no frills' carrier to save money on their trip, though they say they would have preferred to fly with an airline offering a higher standard of service. And 20% elected to fly only with hand baggage to save money, though they would have preferred to have check-in baggage as well.
Nearly one-in-five Brits (18%) decided a less convenient time to travel was worth it to save money, with 11% opting for a less convenient departure airport to keep costs down. But only 6% chose a less convenient destination airport and only 6% chose an indirect flight when a direct flight was available.
Three-in-five of those surveyed said that they were confident of getting the service that they paid for when traveling by air.
Search and booking
The majority of UK travelers are researching (42%) and booking (40%) their flights directly with the airline, 30% use a flight/travel comparison site for research and 19% for bookings.
18-34-year-olds are least likely to book directly with an airline (36% vs. 42% for those aged 55+); and more likely to use comparison sites than their older counterparts (27% vs. 15%).
The majority of bookings (77%) were made online, via a website or app.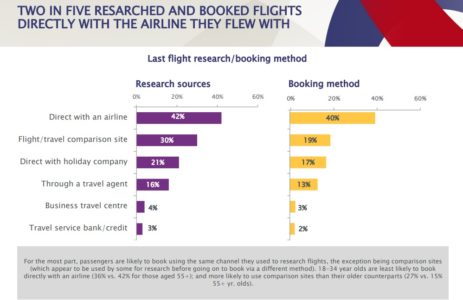 Elsewhere
79% were satisfied with the ease of finding information to compare different airport and airline options for booking.
73% were satisfied with the amount of choice available between airports in the UK.
70% said they were satisfied with the amount of choice available between airlines in the UK.
There are some signs that search and booking will need to continuously improve to keep up with population trends with 18-34-year-olds less satisfied generally than the overall  sample.
87% overall said they were satisfied with the booking process. (82% of 18-34 year olds)
86% overall said they were satisfied with their decision of which flight to book. (80% of 18-34 year olds)
76% overall said they were satisfied that they had got value for money. (71% of 18-34 year olds)
Among those who were dissatisfied with the search and booking process, the key complaints were finding seats, booking the tickets, understanding baggage allowance, and additional charges.
Complaints/Disruption
The CAA reports that only 12% of passengers who have flown within the last year experienced a flight delay. This does not include 11% who experienced a delay after boarding the aircraft. The majority of delays (26%) were due to adverse weather with mechanical equipment failure at the airline or airport causing the second highest instances of delays (20%). Despite regularly grabbing headlines, industrial action accounted for only 5% of delays through the time of the survey.
Having said that, the survey finds that the airline industry is doing a better job of handling complaints – 64% of passengers are satisfied with how airlines and airports handle complaints, a significant improvement over the last report (53%) in October 17.
50% of those surveyed said they were confident that they would be treated fairly if something went wrong during their flight journey; 52% of those aged 35-54 agreed.
Among those who filed complaints, 50% were satisfied with the speed of response; 48% felt well informed throughout the process; 47% felt they were treated fairly and 48% were offered redress for their inconvenience.
However, 60% of those who have flown over the past year say they were not made aware of their compensation rights by airlines, and most (58%) of those who were told their rights did not exercise those rights. Among those who did make a claim, 77% were satisfied with the process.
While there is no correlation between fare and overall satisfaction with air travel, there is a correlation between ticket price paid and the likelihood of reporting delays, as the CAA explains:
"Passengers are nearly twice as likely to report a delay of up to 2 hours if they paid under £100 for their flight ticket (11%) as opposed to £501+ (6%). Similarly, those who paid less than £100 for their most recent flight are less likely to expect 20 kg check-in baggage to be included in their ticket price."
Click here to read the press release, which includes a link through to the full report.