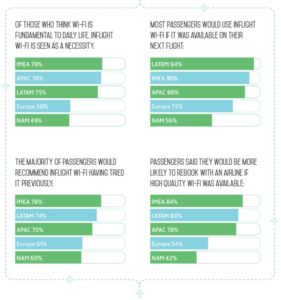 Wifi in the sky can generate loyalty (bandwidth permitting)
Satellite connectivity supplier Inmarsat has published its fourth annual Inflight Connectivity Survey, which shows that the availability of good-quality wifi onboard can be a loyalty driver for airlines.
The survey is based on responses from 9,300 passengers across 32 markets in Europe, Asia, the Middle East, Latin America and North America.
Philip Balaam, President of Inmarsat Aviation, said of the results:
"Wifi is essential to daily life on the ground, and airline passengers see no reason why their time on a flight should be restricted or spent any differently. Staying online is becoming a crucial part of the inflight experience for today's airline passengers."
The importance of being connected at 30,000 feet is backed by the stats:
More than three quarters of those surveyed (78%) believe that wifi is "fundamental" to daily life, with more than half of passengers (55%) describing inflight wifi as crucial
Passengers are now so keen to get online that more than half (53%) would sacrifice their inflight drink for internet access
81% of passengers would use inflight wifi if it was available on their next flight, rising to 91% of 18-30 year olds, 90% of business travellers and 90% of passengers travelling with children
74% of business travellers feel that inflight wifi is crucial, with almost nine in ten (87%) stating that if inflight wifi was available they would be likely to work and be productive on a plane
However, only around one-in-four planes currently in service offer some form of wifi onboard, and less than half of passengers surveyed (45%) have had access to inflight wifi in the past year; 65% of those who found wifi connectivity available in-flight used the service.
Framing the conversation around loyalty, the quality of the connection comes to the fore. Inmarsat found that 54% of passengers agreed that no wifi connection is better than a bad (poor quality) one.
This means that first-adopter airlines, where inflight wifi tech was in its infancy, haven't really gained points with passengers for taking the leap on connectivity because of the quality of the signal. Airlines. Carriers which have been waiting for a good connectivity experience have been wise with their patience.
As Inmarsat states in its report:
"US airlines might have been the early adopters, but to date passengers have had a mixed experience with the standard of service offered. As such, only 42% of passengers in North America stated that inflight wifi would make them more likely to rebook with an airline. This reinforces the need for airlines to provide a premium offering that genuinely improves the customer experience."
Offering a quality connection will pay off. The study found that 70% of passengers would recommend using quality wifi once they try it for themselves. By extension, one can expect that they would recommend the airline offering the service.
Also, the Inmarsat survey finds that more than two-thirds of passengers (67%) would be more likely to rebook with an airline if high-quality inflight wifi were available. That likelihood increases to 81% of those traveling with children (to keep the kids entertained) and 83% of those traveling on business.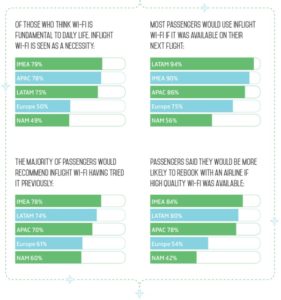 Looking at strategies for selling wifi connections, results vary by region. In terms of the purchase funnel, it seems as if selling connectivity at the point of online check-in is the most effective for airlines. The exception is in North America, where the best up-take would be for wifi passes to be sold at the time of booking. That's an interesting development given that the North American inflight wifi market is more mature and may be a sign of when passengers may ultimately prefer to buy passes once wifi becomes a basic expectation of air travel.
The regions with greatest demand for a quality wifi connection are India/Middle East/Africa (79%), Asia Pacific (78%) and Latin America (75%). Only 50% of Europeans and 49% of travellers in North America felt this strongly about having an internet connection onboard.
Also interesting is that 9% of passengers in Asia Pacific would want to pay for their wifi access using smart wallets; 8% of passengers in India/Middle East/Africa would prefer using smart wallets.  The payment preferences in all regions trend in favour of credit cards with North Americans (65%) most comfortable paying with plastic.
Inmarsat published an independent study by the London School of Economics last year which included ancillary opportunities for airlines to recover their investment in equipping the fleet. At the time, LSE predicted an increase of 2,005% in airline in-flight connectivity revenue per passenger; from $0.23 in 2018 to $4.00 by 2035. It valued the contribution of connectivity to airline revenue at $30 billion by 2035.
Dr Alexander Grous, department of media and communications, LSE and author of the 'Sky High Economics' report said:
"Globally, if airlines can provide a reliable broadband connection, it will be the catalyst for rolling out more creative advertising, content and e-commerce packages."
Related reading from tnooz:
More of the world's passengers can now find better wifi onboard (Feb 2018)
Delivering wifi from the sky (Jan 2018)