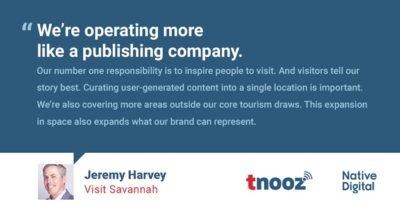 Destination marketers shoot the breeze on branding, new offerings, partnerships
This is a viewpoint interview series by Justin Watkins, Creative Strategist at Native Digital.
There is an ongoing debate on how destinations can stay relevant to travelers. It's a discussion often had among destination marketing organizations and partners whose roles and tactics must evolve as the travel, marketing and technology landscapes continue to disrupt tried-and-true methods of the past.
In the Relevant Destination Q&A series, we hear a variety of perspectives and pro-tips on how destinations can modernize to meet the expectations of a new age of travelers.
This week's guests:
How are forward-thinking DMO/CVBs providing the most value to local communities, businesses and travelers through branding?
Charles Harris: "Marketing leaders at DMOs understand that local residents and businesses are important audiences to educate about the mission and vision of the organization. Two of those messages include the economic impact to local residents as well as the corporate social responsibility for key meetings and conventions and how this helps impact their community.
"At Visit Anaheim, an example of how the brand impacts businesses and the local community is delivered through our annual community report. Each year, we produce a printed review of what the meetings and convention clients do to give back to the local Anaheim community when they bring their events to the destination. This shows how these groups positively impact our local community."
Jeremy Harvey: "Visit Savannah operates as an in-house marketing agency, with strategy, media buying, media relations, graphic design all under our direct responsibility. And over the past several years we've began operating as a publishing company as well. Stories are what drive our marketing. And we've told our stories in many ways: from engaging share-worthy articles and listicles, to beautiful imagery and photography, to videos of ghost stories and a 'how to' video series, and more.
"We also know that it's our visitors who tell our story best, so user-generated content finds a place in our efforts to market the destination. To do that, we carefully curate the content visitors are creating to bring the best experiences to our audiences. We seek to inform, entertain and enlighten prospective visitors by providing content of value and usefulness. Our number one responsibility is to inspire people to come to Savannah."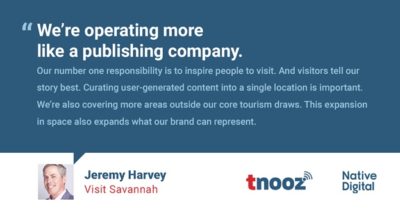 Cree Lawson: "The great destinations, in my mind, are the ones focused on that experience. Bringing visitors to the places where happy, proud residents are doing things that are unique to that particular place. Good travel experiences happen when you check the box on your bucket list. GREAT travel experiences happen when the visitor discovers something unique and new about the place and tells that friend.
"Travelers don't just want to visit; they want to engage. If you leave a visitor with a unique experience – something 'brag-worthy' – then that's what will drive repeat visitation with a social media exponent. If you drive repeat visits, people who come back for the same, authentic experience year over year to hang out with friends then you create value beyond marketing. You build a base of visitation.
"And those visitors feel ownership of the place that they visit so that they don't trash the place. Happy, repeat visitors drive sustainable tourism from a base of tourists so that you can focus marketing dollars on the next set of visitors who will have a great, authentic experience and tell their friends and so on."
How important is it for DMOs/CVBs to bring in new offerings?
Charles Harris: "Many destinations rely on a new offering to help tell their branding story and look at a new product as a part of their tool kit. But, in the digital age, DMOs have become better storytellers. Creating branded content and publishing it through traditional channels as well as with new distribution platforms helps tell the authentic destination story.
"Additionally, DMOs also work with local businesses and offer specials to visitors via organizational websites and 'show your badge and save' programs."
 Maya Hua: "We are lucky here at [Mall of America] to have a constant stream of new attractions to promote. FlyOver America, a 4D flying experience that opened a year and a half ago. Since then, we have also been lucky to have SMAAASH, an indoor, two-story Go Carting and VR gaming center as well as our newest attraction, Trevls, a Tesla car rental company that allows visitors to rent a Tesla for as short as a hour or as long as a week. It is exciting to learn about new attractions as well as bring them to our guests."
Cree Lawson: "We always wondered why our friends in Kansas had so many bicycling ads. They had high arrival rates and from places that were far away, even from other countries. This was a mystery to me until I went to recent Tourism Commission meeting and heard how Kansas is turning the thousands of miles of train tracks that cross their state in to trails — some of which stretch out for over 130 miles. You can basically bike the state without hitting blacktop.
"Those railways could be a rusty eye-sore, but the state has been slowly turning these train trails into a uniquely Kansas experience. Kansas doesn't have the railroad industry that it used to, but they've turned those real estate assets in to something that's uniquely Kansas and attracts a unique set of users."
So that's branding and new offerings for destinations covered. How about partnerships?
Charles Harris: "The best way to move the needle is to develop traditional and non-traditional partnerships as a way of servicing the needs of the visitor.
"Airlines, OTAs and local businesses are areas each DMO has probably already explored.
"That said, how do the 'sharing economy' businesses fit in? It depends on the destination. For us at Visit Anaheim, we have formed new partnerships both inside and outside the hospitality industry in order to deliver visibility, new experiences and general education about the destination.
"On a local level for example, we formed a unique partnership with American Heart Association to give back to the community. Together, we launched 'Heart-to-Heart,' a three-year giveback program for high school students in Anaheim, which provides CPR education and training."
Maya Hua: "Our partnerships with our local CVB in Bloomington as well as the city of Minneapolis, St. Paul and Minnesota allows us to pool our resources and invest in a way we never would be able to on own. Not to mention that tourists would be a miss not to see the sights outside of the Mall of America in our surrounding cities and the great outdoors of Minnesota. We often work in tandem at trade shows, advertising and on property promoting each other.
"As they say, a rising tide lifts all boats."
Cree Lawson: "I'm most fascinated by situations where DMOs are thinking outside the box, using partnerships to overcome capacity constraints and provide a better quality of travel experience.
One such situation that hasn't received as much coverage is how the New York State (Empire State Development) is overcoming the glut of flights and travelers coming into JFK and LaGuardia airports by opening new international service from Stewart International Airport to Scotland and Ireland. If you're considering the US from anywhere outside of London, and you're not interested in flying in to New York City, this becomes a very attractive option in my mind. You can skip the crowds at Heathrow and JFK. What's not to love?"
What are the newest marketing tactics DMO/CVB's can implement successfully?
Charles Harris: "Certainly, adopting new technologies is an important piece in the DMOs tool kit. It is not the sole solution but a good one. Budget allowing, third party tools such as user-generated content, virtual reality, geo-fencing and social media platforms are just a few of the many different technology resources.
"All marketing tactics today should include a variety of programs including paid advertising, owned content, earned media and social media.
"I am not sure there is a great solution at the moment, but all businesses need to understand the changing habits of search on the web. There have been reports in the media that today voice search is as high as 20 percent, so traditional web advertising and organic discovery will change how people find a business and order goods and services online."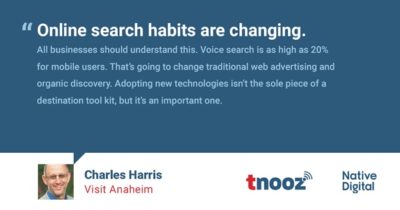 Cree Lawson: "We're living in what I call a 'post programmatic, social integration' world. Social and programmatic were the two most commonly used tactics we saw in 2017. Now marketers are getting smart about combining these new tools to achieve more holistic programs designed to influence travelers at each stage of the travel planning process.
"For instance, a marketer might use programmatic's ability to target intent or interest and then amplify that message through social media. Or vice versa. Marketers are also targeting groups who "like" a particular activity and using display (and video) to reinforce the "upper funnel" social media messages."
Which type of visitor should DMO/CVB's focus their attention towards?
Charles Harris: "It really depends on the destination. In Anaheim, we have the largest convention center on the West Coast, so a good portion of our focus and resources are geared toward meetings and convention attendees.
"At the same time, we are the home to Disneyland, professional sports teams and an emerging craft beer industry, which allows us to target specific national and international segments.
"Each destination needs to focus on their natural resources to tell their unique story and then inspire and engage these audiences for new and repeat visits."
 Cree Lawson: "The ones who are leaving. I know it sounds crazy at first. But how much more effective is your marketing if you can attract a visitor twice from one ad campaign?
"CRM is extremely undervalued in travel as a whole (not just the airlines). But intercepting happy travelers with messaging or direct interaction as they leave is going to give marketers fresh insights into what worked for them (and what didn't). It's an opportunity to get them to consider coming again or even better yet. Ask them to share the word. What about a 'Best Part of My Trip' kiosk in the departures area? Or a best selfie in town contest? Customer satisfaction starts with leaving them happy and wanting more, right?"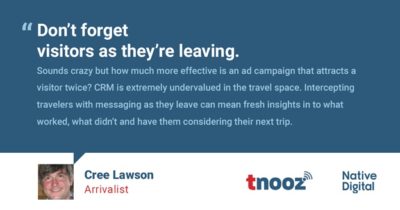 Final word, what should DMO/CVB's do more? What should they do less?
Charles Harris: "DMOs need to react quickly based on news that could and does impact the industry.
"For example, Visit California, considered best in class for state tourism boards, quickly developed and implemented the All Dreams Welcome campaign in 2017.
"This happened after industry research showed the potential for international visitors to reconsider visiting the United States. The proactive outreach with local California DMOs in key markets showed a positive impact on trending perceptions of California and the local destinations. In fact, Discover Los Angeles and San Francisco Travel developed award winning videos to support this campaign in record time.
DMOs need to partner with economic development offices within their communities and jointly develop new opportunities with one voice.
DMOs also need to explore additional revenue streams which will help sustain the organizations for many years."
Maya Hua: "I personally try to focus on what we have and not compare ourselves to other destinations. If you are passionate about your attractions, hotels, restaurants, shopping, and tourist amenities, you will succeed. We market fun and the experience along with the fact that Mall of America is a destination. It is important to keep that simple mind set when coming into work each day as a team."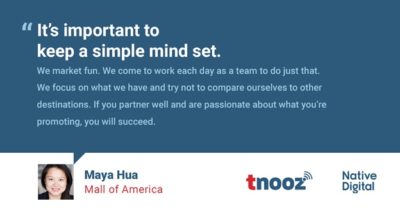 Cree Lawson: "Illustrate the impact. Government entities are notoriously skeptical about the impact of marketing. There's never been so much scrutiny on government spending – especially spending that cannot be directly tied to return on investment. We know it works. It's now incumbent upon destination marketers to show constituents HOW it works. That's either a challenge or an opportunity.
"I don't have definitive research on this but – from my anecdotal observations – most marketers who see it as a challenge are losing budgets. the marketers who are looking at technology, big data and analytics as an opportunity are seeing the same or larger budgets."
 Key takeaways for destinations
Leverage user-generated content by inspiring share-worthy experiences and creating opportunities for visitors to capture, publish and amplify those memories on social media.
Understand the implications of the ever-evolving digital landscape. Consumer discovery will shift as online search evolves to account for how consumers are using new technology.
Consider interest-based audiences not just geographic-based audiences. Especially as online platforms enables the ability to identify and speak directly with them.
Focus on driving repeat visitation by identifying your biggest advocates — the visitors who will not only return, but will return with new friends/family members.
Reimagine how your organization looks at the consumer's travel planning process in order to identify key moments and new opportunities for engagement within the 360-degree consumer journey.
This is a viewpoint interview series by Justin Watkins, Creative Strategist at Native Digital
Opinions and views expressed by all guest contributors do not necessarily reflect those of tnooz, its writers, or its partners.