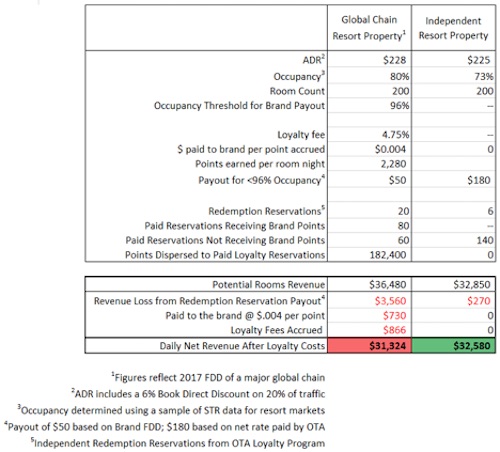 How to avoid getting burned by an expensive loyalty program
This is a viewpoint from Maureen O'Hanlon, partner at Prism Partnership.
Loyalty programs are still all the rage for the major global hotel chains and online travel agencies. While the consumer side of the programs are clear – one must earn points on paid stays to burn points on free stays – implications for the hotel owners who fund these programs are a bit murky. We suggest you examine your loyalty program to decide if it's really driving the bottom line profitability you're looking for. Here's how:
Understand the cost of your program and how it will impact your bottom line.
It's easy for hotel owners to buy into the promise of loyal, repeat guests. What we should be asking ourselves is: are these loyalty programs delivering on that promise? In the face of many strong, competing programs, how loyal will loyalty members be? According to Phocuswright, not very loyal!
In a study published in November 2017, seven in ten loyalty members admitted to participating in two or more accommodation programs. And a 2017 Bond Brand North American study found that consumers belong to, on average, 14.3 loyalty programs (yet are only active in 6.7). Multi-program participation would conceivably reduce earnings and redemption, but owners must still pay their brands for each point customers earn at their property.
Do owners know how the brands are using their loyalty programs funds?
What delineates loyalty fees, program fees, and marketing fees? Ostensibly there is some overlap between loyalty and marketing fees given the model most brands are currently utilizing. However, owners should be aware that while they are paying loyalty fees to their brand, their brand may only barely cover variable room costs of the loyalty redemption stay unless the property is nearly sold out.
Also, some brands don't ever fully fund ADR for redemption stays even if that hotel meets their occupancy redemption threshold, and even if they do the threshold is relatively high. And owners are required to fund the costs of certain guest amenities provided to loyalty members. Owners are seemingly paying at both ends to make the brand stronger. While that sounds benign on the surface, brands have used their might to increase ownership fees across the board and to encourage development of new brands, soft brands, and acquired brands that are competing with your hotel for the same business.
Push the chains for better economics that account for earn/burn ratios.
What's often forgotten is the financial implications of being over-leveraged towards consumer redemption. Compare a resort hotel – where consumers are more likely to stay once a year – to a select service hotel of the same brand that's located next to a large office park. The resort hotel has a larger share of customers redeeming points, but the brand only pays out full rate for redemption stays if the hotel hits occupancy of 96% or greater.
The result: some hotel owners could have a substantial part of their inventory consumed by loyalty redemptions which may cause them to significantly drop rate to ensure they hit their brand's occupancy redemption threshold which funds that day's ADR. For resort properties with long booking windows, this could mean dropping rate weeks out from the arrival date just to get close to the occupancy redemption threshold. Is this a RevPAR tactic that results in superior performance? Probably not.
Examining the Franchise Disclosure Documents (FDDs) of multiple brands across multiple chains, I've found very little difference in loyalty fees based on brand or hotel type. Owners of branded properties in predominantly leisure markets find themselves at a significant disadvantage. Take the following table for example:
Loyalty cost impact on daily revenue using 2017 financial disclosure documents of a global chain
Redemption stays, points payments to the brands and loyalty fees are all diluting the Global Chain Resort Property's profitability. However, online travel agencies such as Expedia and Hotels.com charge no fees for their loyalty programs and fund the entire programs themselves, so even assuming lower ADR and occupancy at independent properties, bottom line profitability is higher. Again, it is chain hotel owners who are the ones footing the bill!
Leverage OTA loyalty programs that provide full ADR redemption payouts.
OTAs are underselling the fact that they foot the bill for their loyalty programs. Unlike the brands, Expedia, for example, pays hotel owners their full ADR for point redemption stays regardless of occupancy rate. The cost of funding points is already baked into their commission making them increasingly competitive with brands' all-in economics. That should be the billboard selling point for OTAs – not only are they seemingly providing an incremental consumer, but when their 'free' loyalty program is factored into the commission, the economics of OTA contracts looks increasingly appealing.
In conclusion, three things are clear:
Owners foot the bill for their brand's loyalty program with urban and resort properties likely paying a disproportionate price for their return. For example, urban hotels are likely to receive far more loyalty members earning nights (at a cost), while resorts are likely to receive the benefit of the redemption nights, albeit at a reduced ADR. And with most programs offering alternative redemption options such as retail gift cards, no owner gets the benefit.
Hotels may have to offer discounts to higher level rooms or suites to drive higher occupancy in order to meet the occupancy payment threshold for a loyalty redemption. This practice reduces RevPAR and ADR performance.
OTAs need to do a better job of explaining their loyalty programs to owners especially if they fund redemption at 100% of ADR regardless of occupancy.
While branded hotels have no choice about whether to participate in the brand loyalty program, they should ensure they have a good understanding of the true cost of these programs on the bottom line.
Opinions and views expressed by all guest contributors do not necessarily reflect those of tnooz, its writers, or its partners.