Subscribe: Apple Podcasts | Android | Google Play | RSS
---
Show notes from Mouth Media:
Utilizing tourism as a force to solve United Nations global sustainability goals…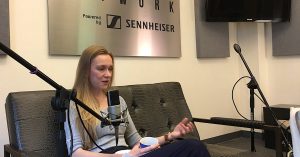 The decisions travelers make on their trips have a lasting impact on the global community. Whether an elephant wrangler added to an Instagram story, or the hotels travelers choose to stay at, how can travelers align travel itineraries to align with the UN's goals for sustainability. Kelley Louise, Founder of Impact Travel Alliance (a non-profit organization and community for travelers and travel professionals interested in improving the world via travel and tourism) joins hosts John Matson and Nick Vivion in the MouthMedia Network studios powered by Sennheiser.
In this episode:
Louise discusses the nature of the global goals for the UN, and how, while many doubt the travel industry can solve them, the travel industry can be a significant force of meeting those goals
Global goal number one, no poverty, and using tourism as a force to solve that
Launching an initiative last year of hosting a multi-chapter event, with several cities at the same time, themed with addressing a global goal (currently: innovation)
Impact Travel Alliance as a non profit, and a community for travel and travel professionals interested in improving the world via travel
Launching the first chapter less than 3 years ago, now some 30 chapters worldwide
What is cool about improving the world through travel, and how it is universally appealing
Sustainable tourism focused on business and leisure travel, small pivots that make a big difference, such as donations to charity resulting in discounts on hotels
Why sustainable tourism/travel doesn't have to be only budget or luxury
How The Culture Collective started as blog, became a creative agency, with Louise landing a job in Uganda, then traveling all around and learning a lot about sustainable tourism
The challenge and opportunity of helping brands identify demographics
Vegan donuts
What sustainable travel really means
The power of immersive experiences in changing travel behaviors and priorities
How the Impact Travel Alliance is eager and open to collaboration, sharing best practices with one another
The three parts of Impact Travel Alliance: global conferences, local chapters, and a media network
How Louise learned to plan events, and how her personal drive to do so is wanting a place in the community that felt like a home in the travel industry
Seeing something in tourism that is negatively impacting the world, such as elephant tourism in places like Thailand, and a "paradise" that is surprisingly polluted
Thinking about what one's long-term impact on the environment is when traveling, and how some things feel good but don't have a positive long-term impact
Sustainable experiences are empowering and often the most memorable experiences