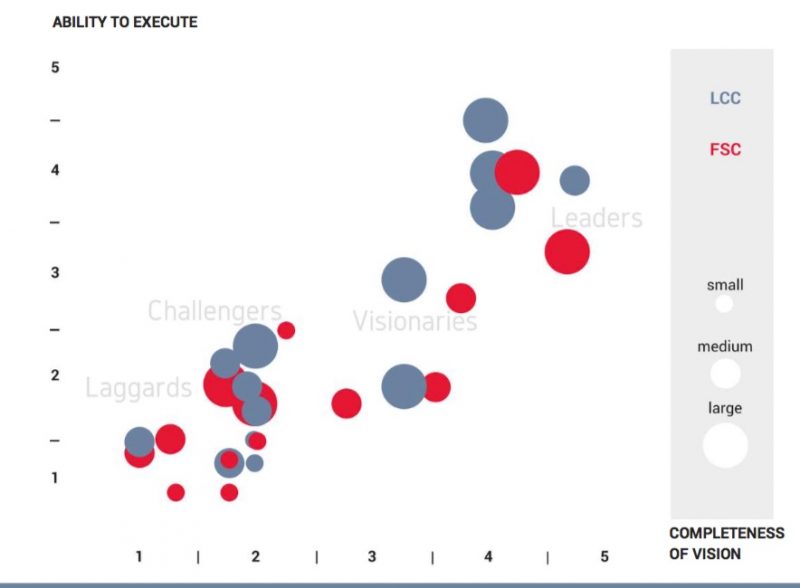 Room for growth in airline conversion rates
Could do better is the conclusion of a Diggintravel study of Conversion Rate Optimization (CRO) practices from airlines.
While the basic level of sophistication airlines have on CRO is comparable to companies in other industries, it lags behind travel and ecommerce companies like Amazon, Airbnb, Priceline, and Skyscanner.
The survey examines the maturity of CRO processes among airlines and details the challenges airline professionals face in their efforts to improve CRO.
The three principle challenges are a lack of skillsets in this area, inadequate management understanding or support for CRM, and inherent inflexibility of internet booking engines.
64% of respondents to the Diggintravel survey admitted to having no structured or documented CRO process.
47% of those working to optimize CRO work at companies where CRO is not in the budget.
Only 36% of the airlines surveyed have CRO teams in place.
54% of respondents said that CRO is done by a single person or that optimization is nobody's primary job responsibility.
52% of the survey respondents run 3 or more experiments every month.
64% of airlines rely on individuals for their CRO tasks and projects. Only 36% have formed CRO teams—either smaller groups or full-scale conversion tribes.
43% of LCC airlines perform tests on a regular basis (at least two to five per month). The number of FSC (full service carriers) that do this is lower (21%).
Inflexible IBE
The study finds that more airlines don't run more A/B tests and other CRO experiments because of the limitations of their current IBE platforms.
For example, Diggintravel reports that only 14% of the airlines surveyed have an IBE in place which allows real booking funnel A/B testing such as split-path tests.
Only 40% of large airlines said they have flexible IBE solutions that fully support advanced testing. None of the small or medium airlines surveyed said they had such IBE systems.
The company attributes this weakness to the "outsourced, pre-designed, 'one size fits all' IBE solutions" on which those airlines rely, which may not give them full control of their booking funnel.
Laggards to leaders
Diggintravel mapped the results into a Maturity Model of the airline industry, which shows the distribution of airlines at various stages of CRO sophistication.
It identified 14 airlines which it classified as "laggards" in CRO strategy, three "challengers", six "visionaries" and five "leaders".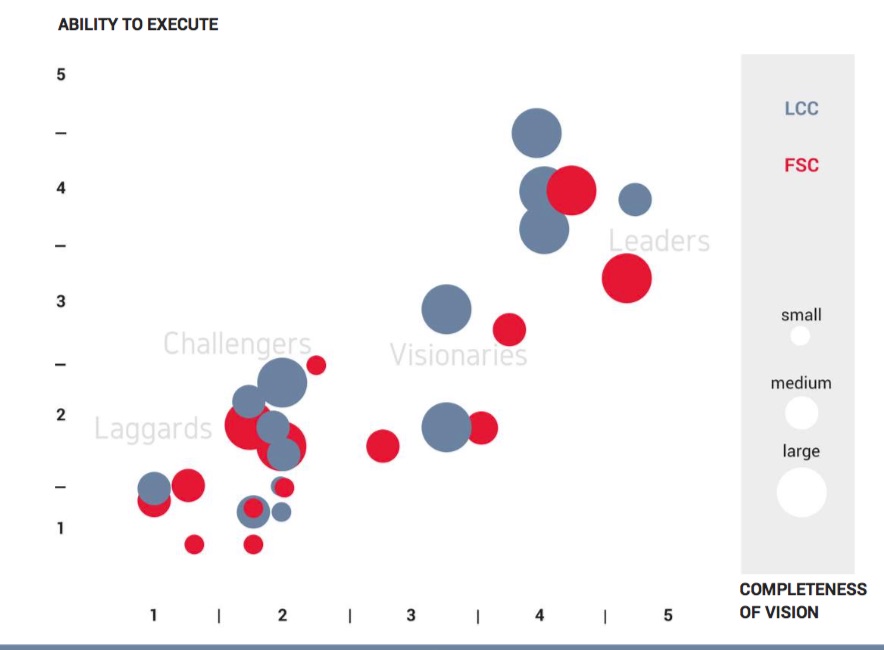 Laggards
These airlines are just getting familiar with CRO processes or have no awareness of CRO as playing a critical role in the success of e-commerce strategies.
These airlines mainly lack resources and knowledge to deploy sophisticated CRO strategy, and many of them may be in smaller organizations where fewer employees are available to work on a variety of tasks. Six out of the seven small airlines surveyed were in this group.
Many have no CRO activities in place and those which do have very basic CRO activities like reviewing analytics and conversion reports.
None of the airlines among the Laggards perform customer-centric CRO activities including customer feedback, surveys, UX, personalization, or other research.
These airlines do A/B testing or forms of CRO experimenting as an ad-hoc project, like during a major website redesign, if at all.
Challengers
Airlines classified as challengers are at a slightly higher level of sophistication from laggards, in terms of activities and tools, but lack a systematic CRO process and cross-organizational support.
At these companies CRO remains something individuals or departments, like digital and online marketing enthusiasts, are aware of.
They may be working to get senior management buy-in and support, but there are no dedicated CRO resources or specialists available for these activities. Most individuals working on CRO have basic online marketing skills, but lack more advanced CRO skills and knowledge to structure activities as an end-to-end process.
One challenge for this group is that the CRO tools available may be used for silo tests and hacks, instead playing a role in a long-term optimization plan.
These airlines implement A/B tests and experiments "at an above-average rate", but may view testing as the main optimization activity.
Visionaries
Visionaries are the second largest group, with six airlines in all split evenly between medium and large airlines.
They understand the potential and importance of CRO and view optimization an end-to-end process, instead of a set of disconnected activities and tests.
They have a CRO specialist or team onboard, with above-average skillsets, and organizational support in place.
Diggintravel categorized half of this group as having "advanced CRO knowledge" including in the use of advanced analytics, user-centered design and optimal UX.
Iztok Franko, Diggintravel founder states in the report:
"Visionaries have the means but don't execute at the same level as Leaders.

"Two areas limit Visionaries—namely, tools and the Internet Booking Engine. Lack of IT support and an experimenting process that doesn't require IT involvement are key challenges raised by this group.

Limitations in activities and tools result in less than optimal execution of A/B testing and experimenting. Most in this group still perform A/B tests and experiment on an ad-hoc project basis. Others do it on a small scale (fewer than 5 tests per month)."
Leaders
All airlines classified as "Leaders" have dedicated CRO teams with advanced CRO skills and knowledge, and they have assigned roles in the CRO team including Conversion Optimization Expert, Specialist or Executive.
Franko says:
"It's not a coincidence that big airlines dominate this group. The resources and expertise needed to build a CRO-centric organization can be an issue for smaller airlines.

"However, CRO is not solely the domain of the biggest airlines; even smaller airlines can advance to a higher level of CRO maturity with a smart and agile CRO strategy.

"The best in this group are real experts in optimization (using persuasion techniques, conversion copywriting, data-mining and machine learning)."
Another quality that differentiates leaders is the customer-centricity of their CRO strategy.
"All their activities are centered around understanding their users better. They achieve this by engaging in advanced customer feedback, user testing, advanced analytics, segmentation, personalization and extensive UX research.

"Leaders have established (or are working to establish) agile and independent growth teams that optimize the user experience and products based on testing and experimenting."
Leaders test and experiment on a larger scale than other companies—at least five to 10 tests per month, and the best run more than 10 tests every month. They also have a lot more validation data to work with, with huge amounts of website traffic—from three million to 30+ million monthly visitors.
Some airline CRO Leaders experiment with automated testing and may apply machine learning to their CRO activities. This can include predictive analytics, as used for optimized pricing or product recommendations, for example.
Diggintravel suggests that these airlines could achieve faster growth by "exponentially expanding tests and experiments."
Doing so would mean working to the standard of other big digital travel companies.
Growth CRO
The report points to Airbnb's engineering and data science insights which show that the company performs 500 concurrent experiments using its internal A/B testing platform and framework—the Experimentation Reporting Framework (ERF).
As another example, Booking.com performs 1,000 concurrent A/B tests.
Franko says that growth does not happen organically, but requires "cultivation" in the establishing of a culture of experimentation across all functions in a company.
He points to Skyscanner's Growth Squads as an example of building this type of culture for growth.
As Franko tells tnooz, developing sophisticated CRO is critical to ensuring the maximum return on marketing and branding efforts. He says:
"We see airlines, hotels and other travel organizations investing heavily in building direct distribution and getting users to their .com websites.

"This is why conversion rate optimization (CRO) is crucial. It makes every user exponential more valuable, and if done right represents a huge competitive advantage. However many airlines still don't recognize the full potential of CRO.

"In our research we found out that establishing an end-to-end CRO process and organizational buy-in and culture is still a big challenge for most airlines.

"Half of the surveyed airlines were identified as Laggards, meaning they are at the beginning of their CRO journey.

"Most of the smaller organisations (six out seven smaller airlines were Laggards) lack the knowledge, resources and are limited by complex IT landscape  to run a successful CRO program.

"However, CRO is not solely the domain of the biggest airlines; even smaller organisations can advance to a higher level of CRO maturity with a smart and agile CRO strategy. Ones who understand the process, evolve it step-by-step and invest in it on a company level, can succeed. And the reward is great, a customer-centric organisation and exponential business growth."
The study was performed this fall via survey questionnaires sent to more than 90 airline e-commerce and digital marketing senior executives. It reflects the views and insights of 28 airlines in seven key areas: six general CRO areas—people, skills, activities, test quantity, tools, and organizational support—and one airline-specific area, the internet booking engine (IBE).
The report is available to download here.