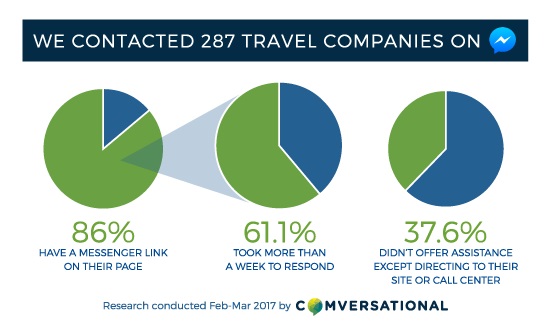 Airlines are struggling with the transition to one-on-one customer messaging
One year ago at its F8 Conference, Facebook announced that it was opening its Messenger platform, giving developers the ability to incorporate chatbots into the conversation.
And exactly one year later, again from F8, Facebook released version 2.0, this time with an even more advanced suite of tools to help developers increase bot usage, engagement, and discovery.
NB: This is a viewpoint by Mike Slone, chief experience officer for Travelaer.
Facebook also revealed that it has an impressive 1.2 billion monthly users on the platform and more than 100,000 active bots (up from 30,000 just six months ago).
But during the 2017 F8 presentations there were very few mentions of the travel industry utilizing Messenger and bots.  Instead the focus was on other industries such as food & beverage, telecoms and cosmetics.
The standard big name, innovative travel companies such as Kayak and KLM had their logos displayed, but no airline bots were demo-ed during the keynote or other break out presentations.
So, how many of those 100,000 active bots are working for the airlines? And are airlines taking the use of Messenger as a one-on-one communication channel with customers seriously?
Our research, which we conducted over the course of the past year (since last April's Messenger announcement), says no.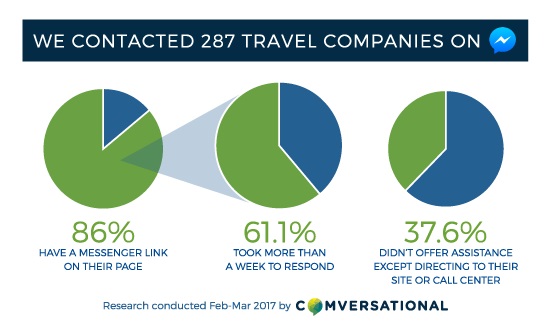 Airlines are aware of Facebook – we found that 87.5% of all airlines have a Facebook page and 149 of 200 airlines' Facebook pages featured Messenger links.
But our data tells a disappointing story when it comes to how airlines use their Facebook presence.
107 of those 149 airlines did not respond to Facebook messages at all.  Of those that did respond only 37.1% responded in less than a week. And more than three in four of the responses which came through were generic, form messages that said to contact the airline at its website, often without including a referral link or phone number.
Of the 149 airlines that have Messenger links, only seven have chat bots.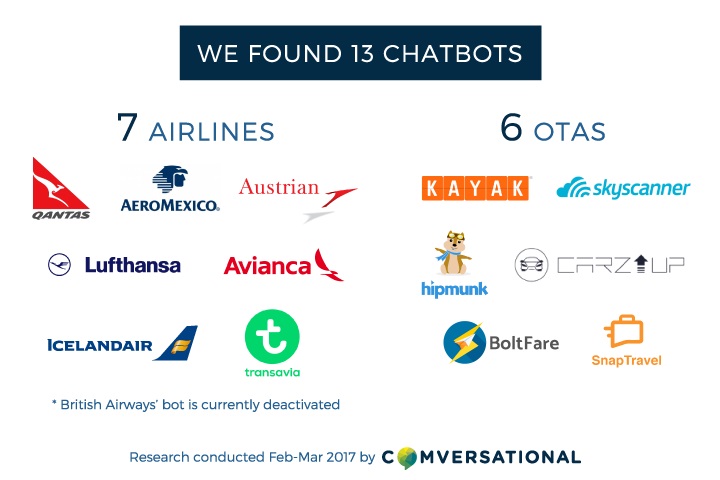 After observing and reporting on customer interaction with travel companies via Facebook Messenger for one year, the results also show that customer service and/or self-service functionality are the most demanded feature by customers , not e-commerce.
Airlines' reluctance or refusal to engage with customers via Facebook Messenger is short-sighted in the extreme – customers want Messenger for service not sales.
For comparison  we also surveyed travel sectors other than airlines, to see how many of them would respond to our Facebook messages.
Of the 46 major hotel chains messaged, only 17 responded, seven of which took more than seven days to respond.
Of the 19 online travel agencies messaged, only eight responded within a week's time and the rest didn't respond at all.
And of the 16 rental car companies messaged on Facebook we experienced a 50% immediate response rate.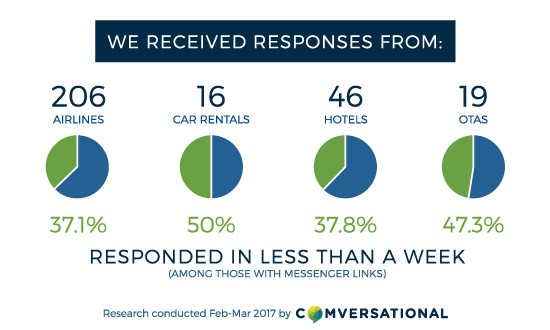 So, why does this research matter?
We believe that airlines and other travel companies not utilizing Messenger and integrated chat bots are missing a huge opportunity to communicate with customers and provide unparalleled service that can only happen via applications such as Messenger.
"People prefer to use Messenger to interact with companies. I mean, who wants to call a company?" – David Marcus, VP of Messaging Products, Facebook F8 Conference
It is no longer a question of if airlines will need to adopt one-on-one messaging strategies, but when. The question is, how far behind will they be when they start to do so?
Today, people use their smart phones all day long – we know this. They engage on their phones in micromoments between the major activities of their day – while waiting for an Uber, between meetings, waiting in line at the grocery store, etc.
People communicate and shop when they can and they expect real time, instant communication and gratification, with self-service tools that put the power of information and commerce in their control – when they want it, how they want it.
"If you direct your existing and future customers to Messenger instead of directing them to a mobile web page or an app, you will see lift, if you build the right experience." – David Marcus, VP of Messaging Products, Facebook F8 Conference.
The power of utilizing Messenger is that a customer can pick up a conversation with an airline at anytime utilizing an app that they are already using to communicate with friends and family.
From the airline side they immediately get the identity of the customer, the context, and all of the messages exchanged are available across all digital channels where the platform exists.
From a developer or IT side, if you are building a Messenger experience you only have to build it once. With other apps you need to build web, IOS, Android and others, etc, which is time consuming and costly.
But, don't take our word for it, here are some success stories from travel companies utilizing Messenger:
Aeromexico has taken its customer service department from 0% to 96% automation and dramatically reduced the average customer service resolution time via chat from an average of 16 minutes down to two minutes.
According to Conversocial, the first US airline to actively announce their use of Facebook Messenger to respond to customer requests saw a 51% increase in Facebook private messages via Messenger and a subsequent 23% decrease in public posts at time of launch.
Great Western Railway began providing customer service through Facebook Messenger at the end of 2015. Since making the switch, the company has managed to resolve 84% of the queries received via Messenger rather than involving additional customer service agents.
And while customer and self-service are the main use cases for the platform, some early adopters are moving into sales.
SnapTravel announced more than $1 million in revenue generated from its Messenger chatbot that sells hotel rooms and is growing at 20% per month.
The speed and scale with which consumers adopt new tech-based services such as Messenger means that travel businesses do not have the luxury of waiting to see if it's worth their while getting involved.
Businesses which are taking it seriously are building up a big lead over the laggards, and as Messenger enters its second year, the gap will get harder to close.
NB: This is a viewpoint by Mike Slone, chief experience officer for Travelaer. It appears here as part of Tnooz's sponsored content initiative.
NB2: Image by BigStock.